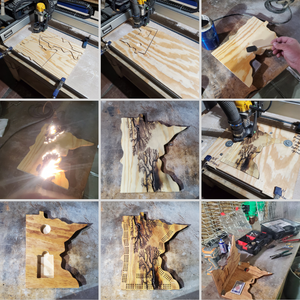 How it's done!
First, I cut the top pieces with my CNC machine. Then I get thicker stock and cut out the bases. As the bases are getting cut, I do all of the edge sanding on the top pieces.
Next, I cover the top pieces with my secret sauce and attach the metal clamps from the machine I built to put the 9,000 volts of electricity through the wood!
After I electrocute the top pieces, I set them on dry racks. As they cool down, I edge sand all of the bases.
After I sand the bases, I clean up the tops with my secret tool to remove all of the ash and give it such good detail!
Next, I set up my CNC and start drilling the holes! Each design has a template to make it easier to place for drilling!
As the holes are being drilled, I stain the base. Once the top is done, I give it a quick sanding to remove of the little wood flairs from the holes and then stain it.
I let them dry overnight and them assemble them the next day!